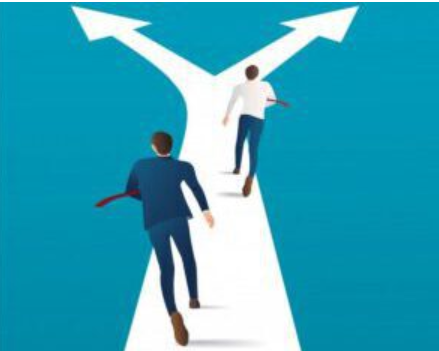 https://management30.com/practice/team-decision-matrix/
Introduction
Everyone is talking these days about empowering teams. In most cases, organizations want to distribute decision making to teams. Teams are doing the real work and are generally better at making work decisions than managers. So far, nothing new.
Different situations require different decision-making processes within teams and there are a variety of ways in which decisions can be made. They can be done by one person or performed by the entire team. The question is when to use which approach and how will the team decide? This is where the decision model comes in.
For decisions about what is done by whoever uses the team decision matrix dynamics.
| | | | |
| --- | --- | --- | --- |
| Based On | Decision taken by | Explanation | Example |
| Aristocracy | One | One person decides on certain topics. Team delegates the decision to this person. | Legal counsel makes changes in the non-disclosure-agreement. |
| Democracy | Majority | Majority of team decides on certain topics. | Location of the hotel for the next team retreat. |
| Sociocracy | Some | Team member(s) can make a decision after discussion with people who have knowledge, are involved, or are affected. It is also called Consent decision making. | Marketer proposes a new marketing tool |
| Unanimity | All | All team members should agree, full consensus. | New hire in a team. |
| Randomly | Dice | Any decision is OK as long as a decision will be made. | Roll a dice to decide if a bonus is paid out. |
Download the Team Matrix cards here.
Explain the Practice
Similar to delegation poker using the OKR process we selected the following activities:
How Deploy Will Be Done
Kaizen
Capabilities
Opening access tickets
Hiring of resources
Definition of processes and projects
Resource allocation
Together with the team on the miro board, we define who is responsible for making the decision:
With selected tasks which depended on a lot of management.
Together with employees in a virtual team meeting, we explained the concept of the ceremony and the options that could be selected:
Aristocracy
Democracy
Sociocracy
Unanimity
Randomly
To make this process, you can use the "Team Decision Cards":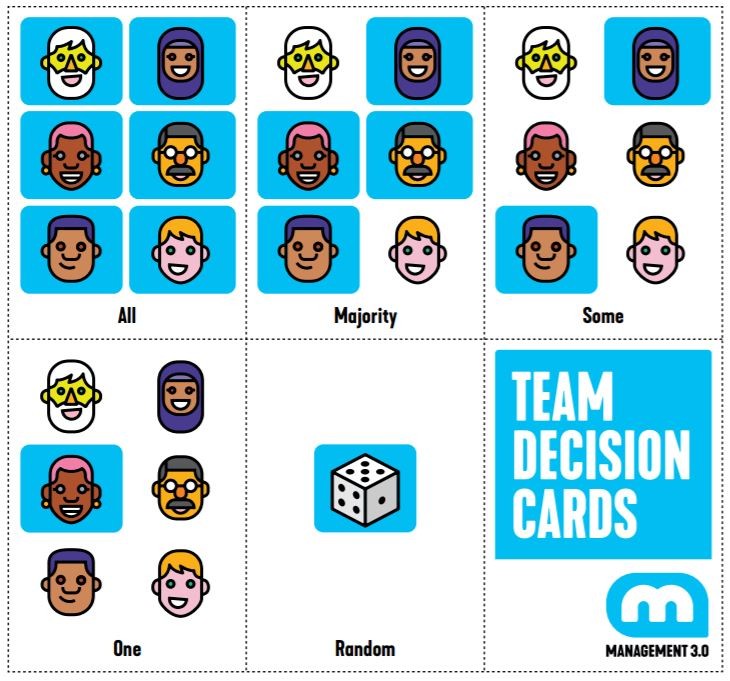 We make room for each employee to give their opinion.
Votes will be cast openly.
We add up the amount of votes for each task and add it to the team decision board.
Why did you decide to use this practice
Continuing with the process of increasing the team's responsibilities using Management 3.0 together with the dynamics of delegation poker, we applied the dynamics of the team decision matrix. Our goal is to empower the team in decision making.
We use the ceremony as an effective process for decisions that the payment team was in doubt about how to proceed:
How Deploy Will Be Done
Kaizen
Capabilities
Opening access tickets
Hiring of resources
Definition of processes and projects
Resource allocation
With the answers given by the team itself, it was jointly defined how the processes will be carried out.
With Delegation Poker, we leave with the answer of how the tasks will be delegated. But we felt the need to know how the team would vote on decisions. We used the ceremony to document how each task would be voted on in the team.
How did you use this practice
Along with the delegation poker activity, we brought the team together on a miro board.
We separated some activities which still had top management and together we voted on how it will be carried out.
I used the matrix during a meeting with the development team (payments).
We decided on the "discussion" area first (using OKRS, we arrived at a to-do list).
After thinking individually about the path we would like to follow, finally, with a shared sign, we show the cards, our choice.
After a brief sharing, agreements were made and rules established: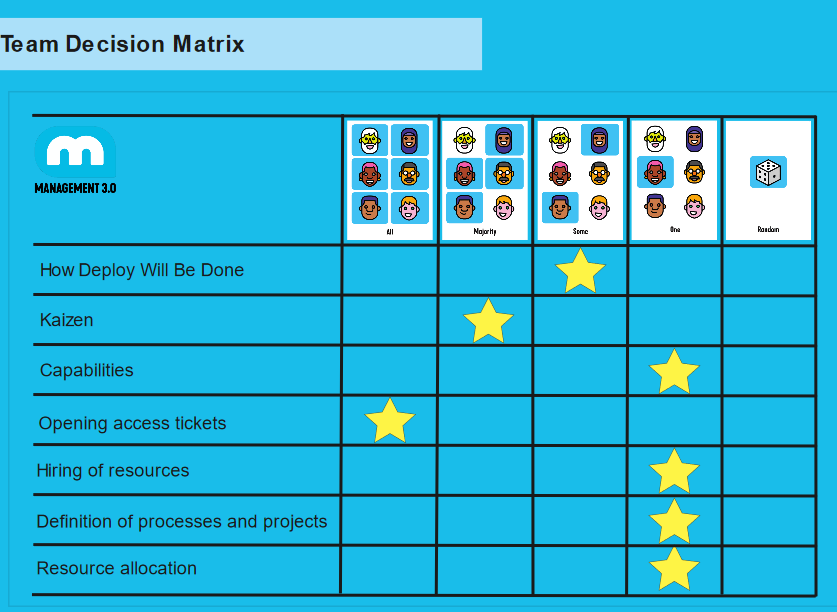 Your learnings as facilitator
We work with delegation poker is a very similar activity and brought us the answers of who the team is responsible for what.
Very useful as a group to define responsibility and co-create a sense of ownership.
Learning that, in some cases, reaching a decision is easier than expected.
We always imagine complexity, arguments and fights, but with a structured process it is easier to converge.
Thinking about a specific topic, first individually and then as a group, helps to focus on one aspect at a time, without diverging on other unnecessary aspects at that very moment.
From that moment on, roles and responsibilities are clear, shared and it is possible to move quickly towards achieving a goal.
Above all, I understood the power of delegation, necessary, fundamental, without which people's motivation collapses.