https://management30.com/practice/competency-matrix/
Introduction
The Team Competency Matrix is ​​a simple and powerful Management 3.0 tool.
The purpose of the tool was to verify which skills the team needs versus what the team already has, managing to identify the gap between the two.
It's simple because you classify these skills into 3 categories: beginner, practitioner and expert.
Red, yellow and green colors are generally used for these categories.
A competency matrix is ​​a team and project management tool that helps you make the most of your internal talent and quickly and easily identify the needs of your workforce.
This will help you define recruitment and selection standards, for performance appraisal or employee behavior/knowledge standards.
Knowing the knowledge we have at home, it is simpler to know the knowledge that is needed to leverage, whether hiring or training existing collaborators.
The Team Skills Matrix is ​​a perfect tool to give a team or organization an insight into the skills they have and/or need.
Through The Team Competencies Matrix, we have a vision of how the team is currently, and we can define how it should be, what knowledge they should acquire.
Explain the Practice
The payments team(agile) together with its agile coach defined a set of skills necessary for self-organizing team evolution.
Below we define the colors of the knowledge level:
Red: I don't know what this is. – (Beginner: What is this?)
Yellow: I know what this is – (Practitioner: I can do this)
Green: I'm an expert at this – (Expert: I can teach)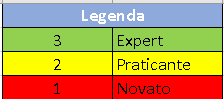 In the first column we list the skills that are present and those that are needed to build the future product, together with the team.
We explained the next steps of the project that was being addressed and included technical and functional skills, technologies, tools, processes, practices and may also include.
In a board(miro), we leave the dynamic frame and ask collaborators to be honest with the team and with themselves about the knowledge they have.
Contributors added the colors to the requested knowledge.
With this we know which needs are met and which are not, so we can draw up action plans to address the gaps, having a better understanding of how we can proceed.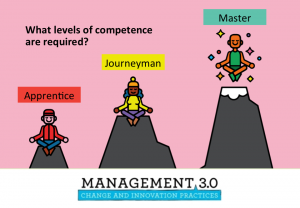 Why did you decide to use this practice
The goal of dynamics was to align the team's skills with the skills needed to build the product.
We added the necessary skills for evolution as a self-organizing team.
As we agree on the order of items, we already know the priority of the action items (eg when to hire an external coach/external resource etc.).
A competency assessment matrix has three main objectives:
A-)
First, it helps to assess the skills needed for a project or team.
This is a useful exercise when building a team or deciding whether to hire new talent.
B-)
And second, the matrix provides information about the skills available within a team or organization.
If, for example, a project requires business and data analysis skills, we will have a "database" of internal skills where we can start looking
The right person.
What's more, this is an excellent way to locate and discover inner talent.
C-)
A third purpose is also mentioned in a Forbes article: training. Thanks to
Competency mapping, we can create learning programs that enable employees
develop all its skills and acquire the new ones the company needs.
We did this dynamic to organize the team, promote (give increase/benefits) and guide knowledge.
From this dynamic came promotions and coaches (internal employees who have a lot of knowledge) for training.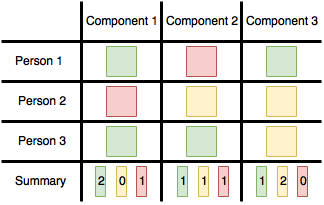 How did you use this practice
We generate a table in (miro) with the names of the collaborators and the necessary skills to increase the team's self-organization.
We define the colors:
Red: I don't know what this is.
Yellow: I know what this is.
Green: I'm an expert at this.
With the previously defined list of knowledge, together with employees, we assess the experience of each team member in each of the listed competences and understand our diversity.
During the dynamics process, we set goals proposing solutions on how to guide knowledge.
With the data present, we draw personal development plans for each team member, and the Competency Matrix is ​​helping you to understand the gap and see where people (and the company) can invest in training and education.
The technical skills that require the most attention are clear to everyone.
Our team is going through a technological upgrade and a differentiation of performance, between "continuity" and "innovation".
The matrix helps to better target these efforts, putting the right people on every front and initiative, while everyone knows why things are being done that way.
It is also helping to train technical leaders within the team, who become a reference and disseminators of knowledge in each competence.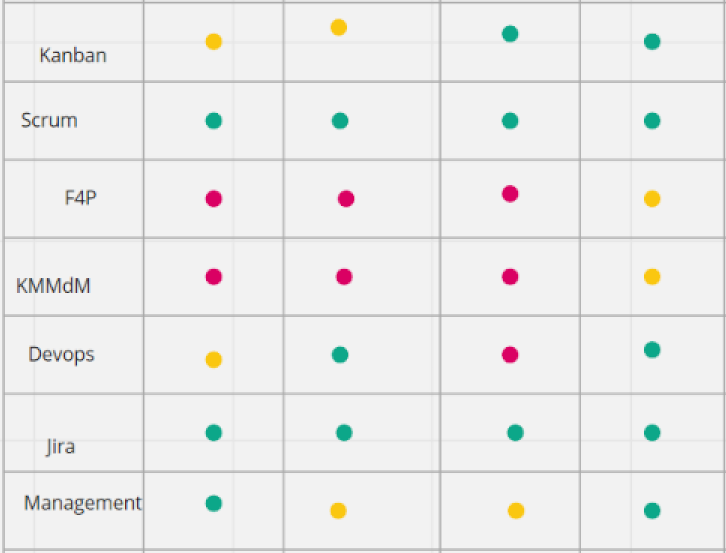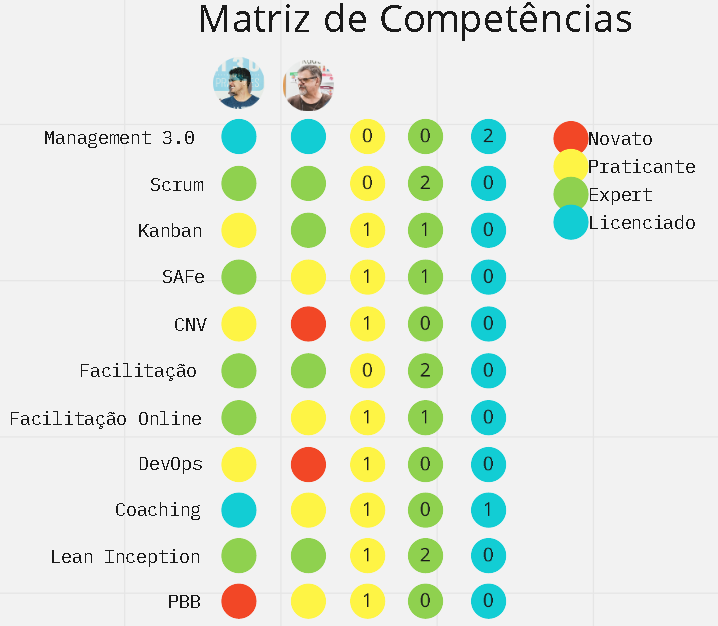 Your learnings as facilitator
The Team Competency Matrix can increase team self-confidence ("look how good we are already, we'll improve even more if we develop…").
We were able to reveal hidden abilities from team members ("I didn't know you also had a strong Agile background…").
We generate transparency for management and show how skill building is needed to develop the future product. This makes it easier to get approved training, coaching, and others.
If we don't have a skill gap in the team, we can go after it to resolve it or not.
We can support team members in developing their skills or perhaps by hiring consultants;
If you need some skills and they are not on the team, you will also need to ask team members if they want to develop them.
This dynamic brought us the path to guide the training path of team members and promote employees.
Have you ever used a Team Competency Matrix? If yes, what did you learn?